BLW
A Media Artists Collective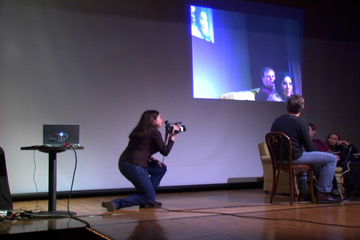 BLW is an artist-activist collective engaged in investigating ways to recover the power of speech in a culture where oral competence is displaced by media forms. Our method so far has involved the memorization and public recitation (re-enactment) of significant recordings in the history of radical media Π speeches, interviews and so on.
BLW has specifically worked with two sources so far. We have done recitations/re-enactments of the speech by civil rights activist Queen Mother Moore, delivered to inmates at Green Haven Federal Prison in 1973. We have also re-enacted the 1969 recording of the final interview of Fred Hampton conducted by the Videofreex in his apartment in Chicago (where he was subsequently assassinated). In one instance, we invited audience members to re-enact the recording of this final interview on a stage set under a video-projection that revealed the simultaneous planning and execution of Hampton's assassination by the FBI.
BLW considers the role of media in radical practices: how do video recordings or other new media act as repository for memory and/or vehicles for interjection. How does the act of re-playing activist video recordings both instill the current moment with the spirit of resistance and possibility while, simultaneously, elucidating the impossibility of such optimism now? Can we, through a embodied recitation of this radical speech, give this act of "play back" a different outcome?
BLW is Rozalinda Borcila, Sarah Lewison, and Julie Wyman. Contact BLW